Permanent Thick Hair Removal Nuonove Cream USA Made buy online in Pakistan
FUNCTION: Gentle formula,clean hair removal,less irritation. Effectively removes hair in as little as five minutes. Remove a large area of body hair,not easily residue,feel the skin silky touch feeling. This fast and painless hair removal cream is as easy to apply as it is effective at eliminating the appearance of unwanted hair growth on the face & body.
MAIN INGREDIENT: Water, chamomile flower extract, cetearyl alcohol, glyceryl monostearate, propylene glycol, polydimethylsiloxane, hydroxyethyl cellulose etc. Natural plant ingredients, gentle skin care, no irritation, anti-allergy, safe to use. 3.SCOPE OF APPLICATION: Suitable for all skin types, Ideal for body, underarm, arms, bikini, and legs. armpit hair, body hair of the bikini area hair removal effect is best, suitable for individuals and families.
SAFE TO USE: This product is aims at a safest solution to your unwanted hair growth problems. Contains natural Ingredients, it's gentle on your skin and won't cause itchiness, irritation, breakout, burning, or peeling in sensitive areas like the bikini line. in the hair when providing moisture touch,balance the skin to restore soft. Do not stay back roots,slow down hair root growth rate degree.
SCOPE OF APPLICATION: Suitable for all skin types, Ideal for body, underarm, arms, bikini, and legs. armpit hair, body hair of the bikini area hair removal effect is best, suitable for individuals and families.
PRECAUTIONS: It is disabled to be used for inflamed and impaired skin surface, people that has a history of allergies uses cautiously Please place in a shade place and avoid high temperature and direct sunlight. Report incorrect product information
How To Use Permanent Thick Hair Removal Nuonove Cream :
Apply the cream Using your hand, smooth the hair removal cream over the area to be treated in a thick and even layer.
Ensure hair is covered For best results, completely cover hair with a thick and even layer of cream. Do not rub in. The cream will dissolve the hair right below the skin surface.
Wait 4 to 10 minutes Leave cream on the skin for at least 4 minutes. Using a soft cloth or tissue, test a small area for hair removal. If hair does not come away easily, leave the cream on for a few more minutes without exceeding 10 minutes in total.
Wipe away Wipe cream and hair away using a soft cloth or tissue. Rinse the treated area with water and pat dry.
All done! Enjoy smooth hair-free skin without the pain.
Precautions:
For external use only.Keep out of reach of children:
Test area to be treated first to check for sensitivity. If it is no problem in 24 hours, you can start to use it.
It is disabled to be used for inflamed and impaired skin surface,people that has a history of allergies uses cautiously
Please place in a shade place and avoid high temperature and direct sunlight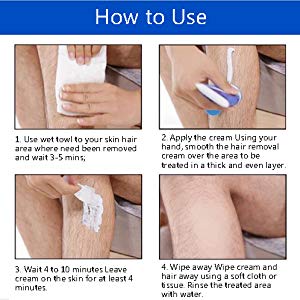 Size & Weight
Size:
10.0 in x 14.1 in x 7.3 in
Weight:
60.00 ML
Related Products
Tags: Hair Removal, Permanent Hair Removal,