Tasty Vanilla Flavored, Whey Protein Powder by Optimum Nutrition Online in Pakistan
GOLD STANDARD 100 percent Whey delivers 24g of whey protein, has 5.5 grams of naturally occurring BCAAs, and 4 grams of naturally occurring glutamine per serving. Gluten Free
Whey protein shake consumed before or after exercise helps kick start muscle recovery for men and women
Have an Alexa device? Enable our OPTIMUM NUTRITION Workout Recipes Skill
Over 20 delicious flavors to choose from including more on another product page
Frequently purchased with ON Creatine, ESSENTIAL AMIN.O. ENERGY, and OPTI MEN


Why Naturally Flavored Gold Standard Whey?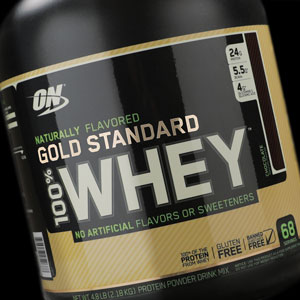 What Is It?
Same great quality of Gold Standard Whey, but no artificial sweeteners or flavors.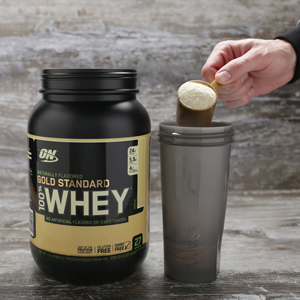 Usage Occasions
First thing in the morning
Before exercise
After exercise
Benefits
The amino acids in protein are the building blocks of muscle protein synthesis. A whey protein shake consumed before or after exercise helps kick-start this recovery process.

Naturally Flavored. Search "ON Apparel True Strength" to see our new ON clothing line! Higher pure protein percentage.
Important information
Safety Warning
Allergen Information: This product contains whey derived from dairy and lecithin (to improve mixability) derived from soybeans. Keep out of reach of children.This product is labelled to United States standards and may differ from similar products sold elsewhere in its ingredients, labeling and allergen warnings
Legal Disclaimer
These statements have not yet been evaluated by the United States Food and Drug Administration. This product is not intended to diagnose, treat, cure or prevent any disease.
Statements regarding dietary supplements have not been evaluated by the FDA and are not intended to diagnose, treat, cure, or prevent any disease or health condition.
Ingredients
Protein Blend (Whey Protein Isolate, Whey Protein Concentrate, Whey Peptides), Sugar, Natural Flavor, Soy Lecithin, Xanthan Gum, Rebaudioside A, Lactase.
Directions
Spoon Stirred: Gold Standard 100% Whey™ is instantized. That means if you forgot your shaker cup or don't have time to get out the blender, just add one rounded scoop of Gold Standard 100% Whey™ to a glass filled with 6-8 oz of water or your favorite beverage. Then mix it up with a spoon. Stir for about 30 seconds or until powder is completely dissolved.Tip:Adjust the taste of your Gold Standard 100% Whey™ by varying the amount
Size & Weight
Size:
7.9 in x 7.9 in x 11.2 in
Weight:
2.18 kg
Tags: Tasty Vanilla Flavored, Whey Protein Powder by Optimum Nutrition, Optimum Nutrition, Protein Powder