Delicious Strawberry, Gold Standard Whey Protein Powder by Optimum Nutrition Sale in Pakistan
Packaging May Vary - New look, with the same trusted quality!
GOLD STANDARD 100% WHEY BLEND – 24g blended protein consisting of whey protein isolate, whey protein concentrate, and whey peptides to support lean muscle mass – they don't call it the GOLD STANDARD of quality for nothing
OVER 5G OF BCAAS – help build lean and strong muscles with naturally occurring BCAAs
3-4G CARBS, 1-3G SUGAR, AND 1-1.5G FAT, GLUTEN FREE, No Sucralose in Double Rich Chocolate Flavor
INSTANTIZED – improves mixability to prevent lumps and clumps
BANNED SUBSTANCE TESTED – highest quality control measures so you feel comfortable and safe consuming the product
4 SIZES TO CHOOSE FROM – 1, 2, 5, and 10-pound options available

Gold Standard 100% Whey Peanut Butter Cups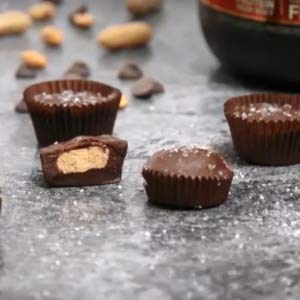 Ingredients:
Natural Peanut Butter, Creamy - ⅓ cup
Gold Standard 100% Whey Extreme Milk Chocolate - 1 scoop
Gold Standard 100% Whey Vanilla Ice Cream - ¾ scoop
Dark Chocolate Chips (Pascha Organic 85% Cacao) - 1 cup
Coconut Oil - 1 tsp
Servings: Makes 12 Cups
Nutritional Facts Per Serving:
Calories: 100.
Carbs: 6g
Fat: 5g
Protein: 5g.
Directions:
Line mini muffin tin with liners
In a medium sized bowl, combine peanut butter with Gold Standard 100%, Vanilla Ice Cream.
Divide mixture into 12 and roll into balls then set aside.
Add 1 scoop of Gold Standard 100%, Extreme Milk Chocolate and stir until smooth.
Pour in half of chocolate mixture to bottom of each liner.
Freeze about 10-15 mins or until chocolate hardens.
Place a peanut butter ball on top of each hardened chocolate, flatten top to smooth.
Add remaining melted chocolate on top. Freeze for another 10-15 minutes until hardened. Enjoy!
Size & Weight
Size:
6.0 in x 6.0 in x 10.1 in
Weight:
1.00 kg
Tags: Delicious Strawberry, Gold Standard Whey Protein Powder by Optimum Nutrition, Optimum Nutrition, Protein Powder