Lean Nutraceuticals Libido Enhancer for Women Md Formulated Libido Booster. Science Selected Ingredients Naturally Supplement and Boost, Women's Testosterone Booster Dhea, Horny Goat Weed 30 Caps
BOOST YOUR LIBIDO AND ENERGY! The most powerful supplement formulation available. Developed by an MD with vast experience in female hormone replacement therapy exclusively for LEAN Nutraceuticals the woman led Live Young, Love Life brand since 2013!
DEVELOPED TO BOOST YOUR BODY'S NATURAL HORMONE LEVELS SAFELY - without gimmicks or dangerous additives. Our pills include Tribulus, Eurycoma longifolia, MACA, Panax Ginseng, DHEA and 9 other evidence based ingredients. FORMULATED IN THE CORRECT RATIOS under the supervision of a Medical Doctor.
A LIBIDO ENHANCEMENT CAPSULE - Women respond to DHEA like men, but biologically need a much lower dose. Our scientifically formulated women's libido complex can help boost libido, improve your mood and increase your energy.
100% REAL RESULTS: If you are not thrilled with your results for any reason just let us know and we'll make it right! Use the whole bottle knowing that you are backed by LEAN's industry leading reputation.
PURE QUALITY - MADE IN THE USA in an FDA, GMP and NSF Certified Facility. Third party safety tested for purity. No GMOs, preservatives, soy, gluten, shellfish, peanuts or egg

Why LEAN Nutraceuticals WOMEN'S LIBIDO COMPLEX?
Medical Science Based Formulation
LEAN Nutraceuticals Women's Libido Enhancer was formulated by a Medical Doctor who specializes in women's hormone replacement therapy based upon what she has found to deliver real results in her practice. No wacky names, no far flung promises.
Medical Doctor Research Certified
Medical Doctor Research Certified means:
The formula has been developed by a Medical Doctor using;
The highest quality ingredients from vetted raw material suppliers
To ensure the product you are purchasing is evidence based using real scientific research.
The Woman Led Live Young. Love Life Brand
LEAN Nutraceuticals has been at the heart of the pro-age, pro-young women's revolution since 2015 and are proud to be a brand loved by tens of thousands of women everywhere.
*These statements have not been evaluated by the FDA. This product is not intended to diagnose, treat, cure or prevent any disease.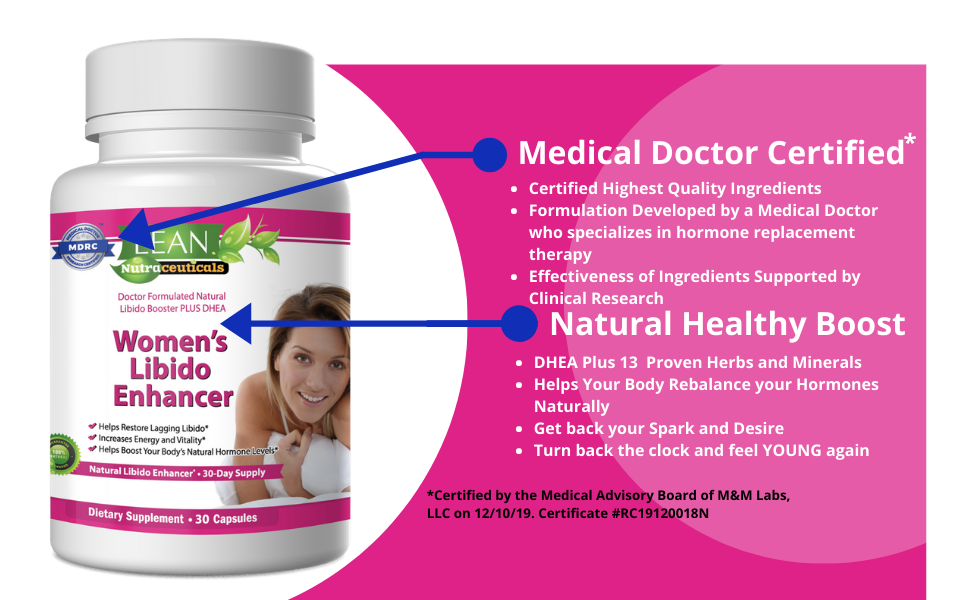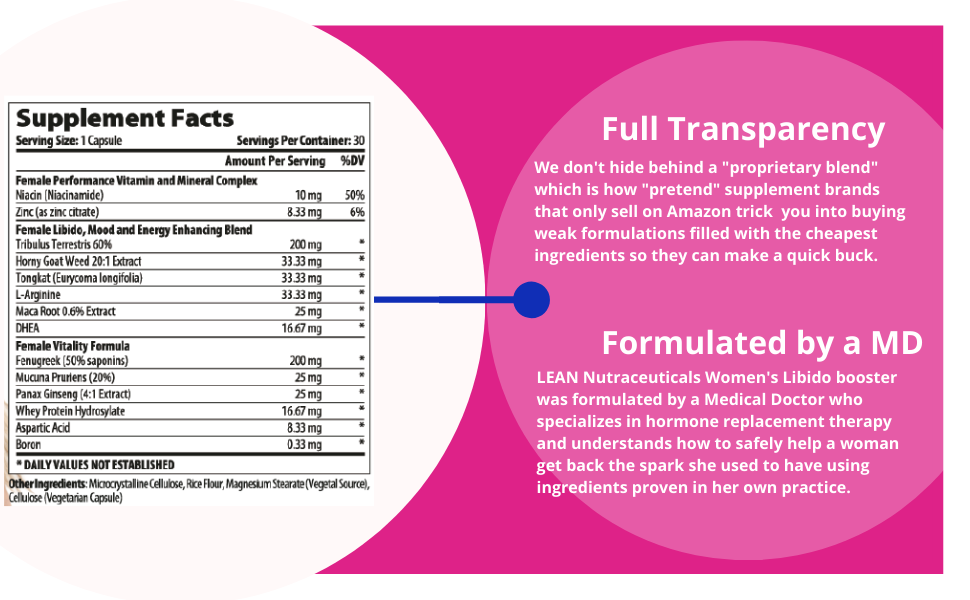 What Benefits Should I Expect Based Upon the Science Behind LEAN Natural Women's Libido Enhancer?
Get YOUNG
As you age you have two choices. You can get older or live younger. Our Women's Libido Booster helps you live younger, lift your mood and regain the energy and desire you had as a young woman.
Get a BETTER MID-LIFE
Your change of life doesn't have to mean the end of living! Our advising MD has helped hundreds of women in her practice re-balance their hormones using the same ingredients she formulated into our Natural Libido Enhancer.
Get RIGHT
Our Natural Libido Booster is packed with DHEA, Horny Goat Wd, Panax Ginseng, Tribulus Terrestis and MORE. Daily use can help you "get right" with more energy and a better mood - Keeping your mind, body and spirit young!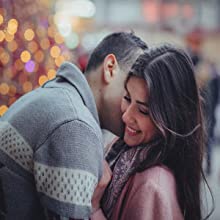 Get PASSIONATE
Restart your passion engine and rekindle your desire with a proven blend of natural herbs. Our Medical Doctor developed formula includes Maca and Mucuna Pruriens that have the medical science research to back up their role in ancient cultures as passion powerhouses.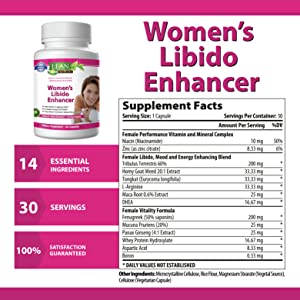 LEAN Nutraceuticals is the Choice for Quality, Purity and Science Backed Efficacy
Since 2015 LEAN Nutraceuticals has been providing the pro-youth community with high quality supplements designed to help you Live Young and Love Life. Our Natural Libido Booster is the latest addition to our line of products designed specifically to help women live younger, happier lives.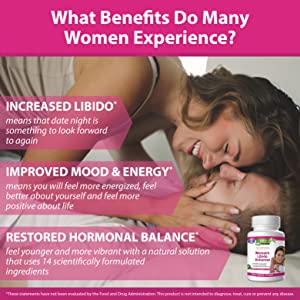 The Science Based Passion Spark
LEAN Nutraceuticals offers the only MD formulated solution that combines DHEA with Panax Ginseng and other herbal passion boosters to help you naturally rekindle your passion and desire.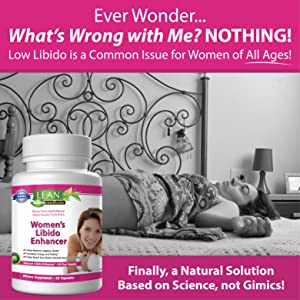 A Complete Formula Based on Bio-Medical Science
We're not sure who's formulating all those "proprietary blends" with claims that seem too good to be true but we know exactly who formulated our product and she is a:
Female Hormone Specialist
Medical Doctor
Nutrition Expert.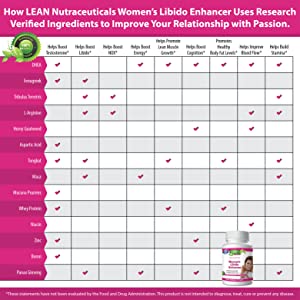 Clinically Supported Results You Can Count On
Our Natural Libido Booster for Women has been formulated with ingredients whose efficacy is supported by medical science research.

Important information
Safety Information
Caution: Do not exceed recommended dose Due to the potency of this supplement you may have to decrease your dose if acne, oily skin or irritability occur. As with all dietary supplements, consult with a medical practitioner before using if you're breastfeeding, pregnant, under the age of 18 or have an existing medical condition. Keep out of reach of children. Do not use if safety seal is damaged or missing. Store in a cool, dry place.
Indications
For Women looking to enhancer their libido and overall mood and energy.
Legal Disclaimer
No statements made about this supplement have been evaluated by the Food and Drug Administration. This product is not intended to diagnose, treat, cure or prevent any disease. Pregnant or nursing mothers, children under the age of 18, and individuals with a known medical condition should consult a physician before using this or any dietary supplement.
Statements regarding dietary supplements have not been evaluated by the FDA and are not intended to diagnose, treat, cure, or prevent any disease or health condition.
Ingredients
Active Ingredients: - Niacin, Zinc, Fenugreek, Tribulus Terrestris, L-arginine, Horny Goat Weed, Aspartic Acid, Eurycoma Longifolia, Maca Root, Mucona Pruriens, Whey Protein Hydrosylate, DHEA, Boron, Panax Ginseng Other ingredients: Microcrystalline Cellulose, Rice Flour, and Magnesium Stearate
Hopw to Use?
As a dietary supplement, taking one or two capsules the morning of a potential "date night" or for two-three consecutive days prior to date night should provide a noticeable increase in energy & libido. You can also follow the recommendations of your healthcare provider. Note: Individual results will vary. If the desired results are not being achieved you may want to try "front loading" your dosage by taking 3 caps per day for 3 days & then deceasing your dosage to 2 caps/day for up to 60 days.
Size & Weight
Size:
4.2 in x 2.2 in x 2.1 in
Weight:
50.00 g
Tags: Libido, Libido Enhancer, Libido Booster, Energy Booster,