Bull Boost Male Testosterone Booster - Increase Size, Mood & Stamina - Made in USA Online in Pakistan
Bull Boost Male Testosterone Booster - Increase Size, Mood & Stamina - Made in USA Online in Pakistan
LOW TEST LEVELS KILL YOUR MANHOOD - Feeling tired, lacking drive, size, or interest in physical activities or things you were once passionate about? Do you have a hard time focusing or being fully present -- even during intimate moments? Have a hard time keeping up the pace from when you were in your 20's and 30's? Low T leaves you feeling like less of a men in every sense of the word. BULL BOOST tablets can help restore your drive and get you feeling more like the man you are.
EXTREME GROWTH - Become an absolute BULL! BULL BOOST is specially formulated to help naturally boost SIZE, PERFORMANCE, ENERGY, VITALY, DRIVE and increase T-Levels with proper diet and exercise giving you all the POWER you need for MAXIMUM effect.
REGAIN YOUTHFUL DRIVE & CONFIDENCE - BULL BOOST can give you the stamina, control, confidence and improved circulation you need to perform better physically both in and out of the bedroom. Start today and become the BULL!
NATURAL INGREDIENTS - BULL BOOST contains over 19 of the world's most powerful all natural herbal extracts into one formula. BULL BOOST is MADE IN THE USA at an FDA registered facility under the strict Good Manufacturing Practice requirements to provide you the highest quality supplements you deserve.
PEAK PERFORMANCE - Power, pumps and performance are just the beginning of what you'll experience with this explosive herbal blend. If you're looking for a boost in drive, better performance and enhanced endurance — look no further. Start your transformation with BULL BOOST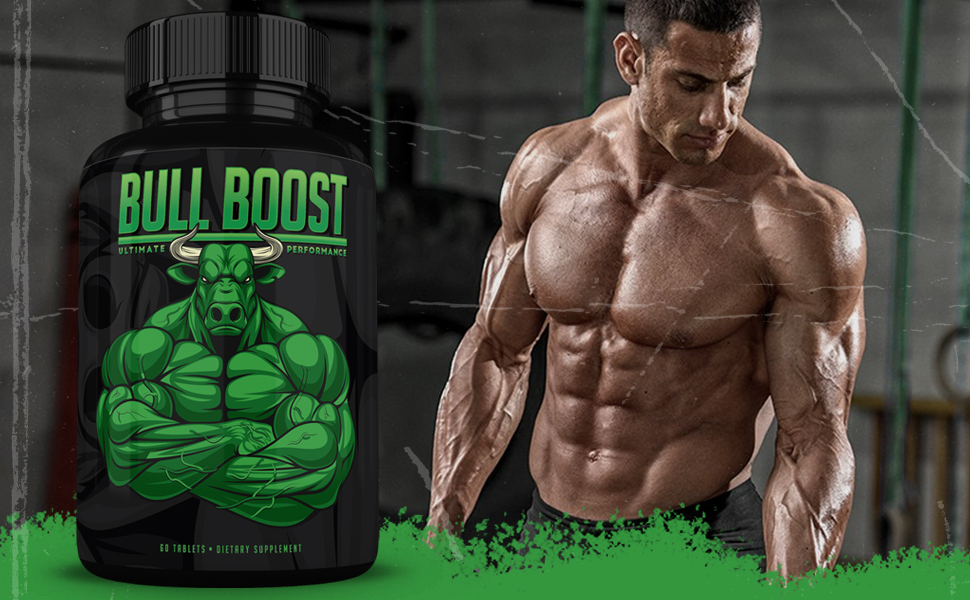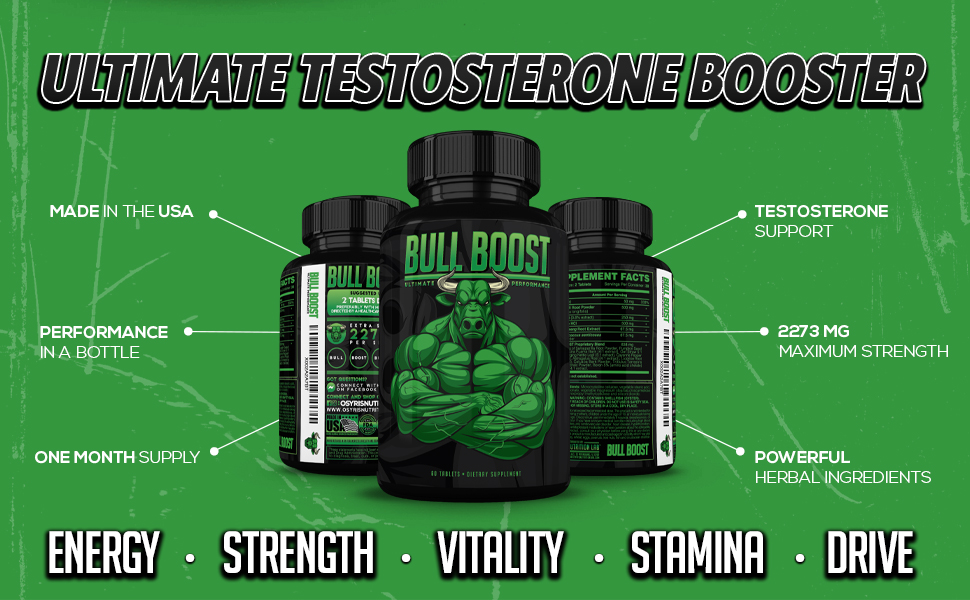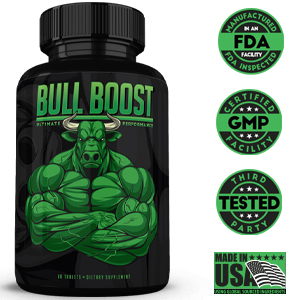 Why Choose Bull Boost Testosterone Booster?
"Gives the size boost you've been looking for!"
Not all testosterone booster's are created equal. BULL BOOST's breakthrough formula features all the top performing premium ingredients sourced from all over the world to bring you the ULTIMATE testosterone support supplement.
Stop settling for products that simply don't work. When you invest in a testosterone booster, you should expect to see results. Our revolutionary formula delivers rock solid results - unlike anything you've seen before.
Combined with a clean diet and proper exercise, BULL BOOST is designed to help boost performance, size, energy, stamina, drive, and bring your confidence back!
ARE YOU READY?

Important information
Legal Disclaimer
Statements regarding dietary supplements have not been evaluated by the FDA and are not intended to diagnose, treat, cure, or prevent any disease or health condition.
Ingredients
Zinc, Panax Ginseng, Maca Root, Tongkat Ali, L-Arginine HCI, Tribulus Terrestris, Eleutherococcus senticosus, Sarsaparilla Root Powder, Pumpkin Seed Powder, Muira Puama Bark, Oat Straw, Stinging Nettle Leaf, Cayenne Pepper, Astragalus Root, Licorice Root, Catuaba Bark, Orchaic Powder, Boron 5%, Osyster 4:1 extract, Microcrystalline cellulose, Vegetable Stearic Acid, Calcium Carbonate, Vegetable Magnesium Stearate, Croscarmellose sodium, Hydroxpropyl methylcellulose, Silicon Dioxide.
Size & Weight
Size:
3.7 in x 2.0 in x 1.9 in
Related Products
Tags: Male, Enhancement, Increase, Size, Mood, Stamina, Energy, Bull, Boost, Booster, Testosterone, Testosterone Booster,