Safe & Effective Scar Fade Balm Best for Old Acne Scars, Pregnancy Scars & Stretch Marks Made in USA Sale in Pakistan
Wild Thera Scar Remover for Face, Stretch Marks, Acne Scars, Pregnancy Scars, Surgery Scars and burns. Natural scar cream for old scar, back acne, kids scar with Shea butter, Jojoba and Avocado Oil.
CONCENTRATED HERBAL BALM. A LITTLE GOES A LONG WAY. NO WATER, NO ALCOHOL, NO CHEMICALS OR STABILIZERS. Herbal Moisturizer with Vitamin E oil. No petroleum by-products, No Harmful Preservatives, No Parabens, No PCB, No Sulfates, No Toluene, No Artificial Colors, No Artificial Fragrances.
SAFE & EFFECTIVE INGREDIENTS like Calendula, Chamomile, Lavender, Shea Butter, Cocoa Butter, Tamanu Oil and more to help minimize appearance of scarring on the skin. Extra Virgin Olive Oil of the highest purity and Beeswax deliver targeted benefits. Common scar treatments include light therapy, chemical peel, steroid injections, wound healer, laser resurfacing etc.
NO HARSH SIDE EFFECTS. This is a natural herbal skin balm. This product is a support for bug bite scar removal, Deep Acne Scars, Wounds, Removal of Freckles or Birthmarks or Tattoos, Spider Veins or Varicose Veins, Sunburn, Chemical Burns, Scleroderma, Shingles etc.
HYDRATES SKIN while healing scars. Scar Fade Balm increases the moisture content of your skin and stays locked in. As an added bonus, it leaves your skin smooth and supple to the touch. Can be safely used with Burn Gel, After Shave Balm, Aftershave cream, InstaNatural Scar Gel Cream, Dark Spot Corrector, Homeopathic Scar Gel etc.
MADE IN THE USA. NOT TESTED ON ANIMALS. We offer a variety of Natural, Organic Herbal Balms including: Breathe Easy Balm, Headache Ease Balm (Headaches/Migraines), Rash Balm (Rashes, Bug Bites, Poison Ivy, Poison Oak, Ringworm), EczaSkin Balm (Eczema/Psoriasis), Burn Balm, Joint Ease Balm, Sore Muscle Balm, Stress Soothe Balm, Cheerful Mood Balm, Cuts/Scrapes Balm (Nicks/Chafes), Scar Fade Balm, Cracked Dry Skin Balm, Digest Soothe Balm, Breast Massage Balm, Bruise Away Balm, Goodnite Balm.

Create products to help the body come back to a balanced state of health. We have formulated and developed products that help support your well being.
Healthy living is a state of being that has to be maintained constantly. There are a lot of therapeutic options out there and many of them are effective for different ailments, issues and problems.
Our goal was to develop a line of healing therapy products that combine traditional natural herbal knowledge with modern science. Modern families are busy and care about the quality of the products that they use. That's why we strive to ensure that our products are made with excellent ingredients, combine traditional and modern techniques, and provide natural, safe and powerful solutions.

Why Chose Wild Thera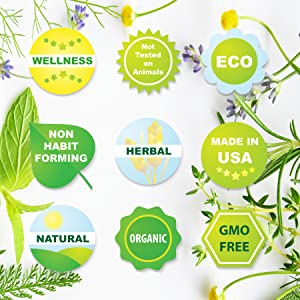 Natural and Organic Ingreidents. Made in USA, Non-GMO, Organic, Natural, Cruelty Free, Herbal, Safe & Effective
We have NO parabens, synthetics, alcohol, preservatives, harsh chemicals, petroleum by-products or other dangerous solvents. We never test our products on animals so they are totally cruelty free.
All our products are designed, formulated and manufactured in the USA.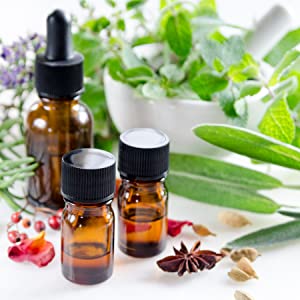 Traditional Herbal & Plant Based Wellness
Our products combine herbs, oils, butters and plant extracts from different modalities.
Additionally, our ingredients originate from organizations and locations that follow stringent guidelines and meet rigorous standards.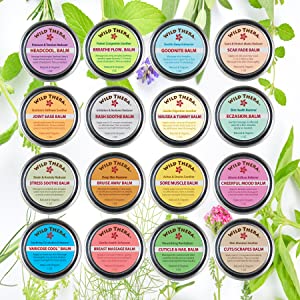 WHY CHOOSE WILD THERA BALMS
Balms contain no water, they do not require any chemicals, stabilizers, emulsifiers etc. They deliver pure concentrated herbal active ingredients.
Creams and lotions contain between 70%-90% water – and require preservatives, stabilizers, emulsifiers and chemicals to maintain shelf life.
All of these are absorbed by your body through your skin and can cause issues and side effects.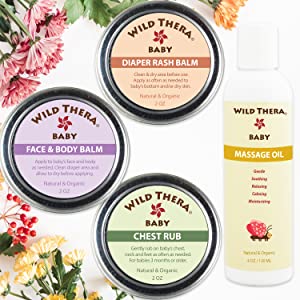 Natural Baby Care
Effective, natural & organic herbal care from birth through childhood: diaper rash, eczema, dryness, rashes, colic, insomnia, nasal congestion and allergies.
Babies & children are different from the rest of us. Not just because they are smaller, but also because their skin and bodies are still growing and require a gentler, softer approach to wellness. Our baby balms and oils are rich with nutrients, tender oils and butters - but completely free of phthalates, parabens, chemicals and preservatives.
Give your baby the gift of natural health and well-being.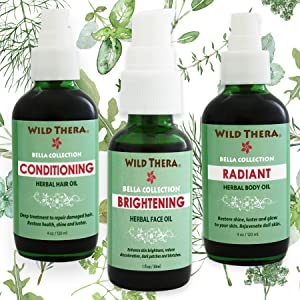 Bella Collection Face, Body & Hair Care
Wild Thera's Bella Collection has been designed for natural healthy, beauty and well-being.
Each oil in the collection is designed to target specific issues while creating a holistic system for skin health.
Body Oil Include: Nourishing Oil, Pampering Oil, Radiant Oil, Firm & Tone Oil and Muscle Massage Oil
Hair Oils Include: Hair Conditioning Oil, Hair Restore & Repair Oil
Face Oils include: Balancing Face Oil, Brightening Face Oil, Cleansing Face Oil, Sensitive Face Oil & Hydrating Oil.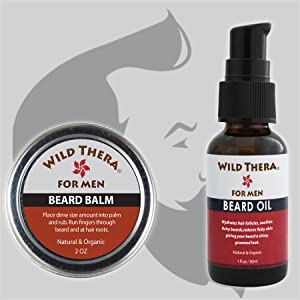 For Men: Mustache & Beard Care
Wild Thera Beard Oil & Beard Balm are made with Natural & Organic ingredients, including extra virgin olive oil, herbal extracts and specialty butters.
This powerful combination conditions and tames your beard while reducing flakiness and itching. Hydrating essential oils deliver a subtle, masculine aroma.
Benefits include:
Reducing Beardruff/Beard Dandruff
Soften and Repair hair follicles
Enhance thickness and fullness
Reduce Itch and Flakiness
Leave your beard tangle free and improve hair and skin texture.
Scent: Scar Fade Balm | Size: 1 Ounce
Important information
Safety Information
For external use only. Do not apply to broken skin or open wounds. In case of skin reaction or irritation, discontinue use. Consult with your physician if you are taking any medications, or if you are pregnant or nursing.
Indications
Scars, Stretch Marks, Pockmarks, Acne Scars, Age Spots, Skin Discoloration, Skin Lightening, Skin Cracks, Sun Spots, Uneven Skin Tone, Dehydrated Skin
Ingredients
Natural Cold Press Extra Virgin Olive Oil, Natural Natural Beeswax, Natural Almond Oil, Natural Avocado Oil, Natural Jojoba Oil, Natural Macadamia Oil, Organic Shea Butter, Natural Tamanu Oil, Organic Argan Oil, Natural Rosehip Oil, Natural Sea Buckthorn Oil, Organic Comfrey, Organic Licorice, Organic Chamomile, Organic Lavender, Organic Onion, Organic Rosemary, Organic Lemon, Organic Rosehip, Organic Orange, Organic Turmeric, Organic Calendula, Natural Essential Oil Blend, Natural Non-GMO Vitamin E. No Petroleum, Parabens or Chemicals. No Animal Testing. Non-GMO. Made in the USA. Ingredients Certified Organic by Oregon Title and QAI
How to Apply?
Apply on old or new scars 2 or 3 times a day. Massage into skin thoroughly.
Legal Disclaimer
This product is not a drug or medicine. It is not intended to diagnose, treat or cure any disease.
Size & Weight
Weight:
30.00 g
Tags: Acne Scars, Stretch Marks, Pregnancy Scars, Surgery Scars, kids scar, back acne, Scar Removal Cream