Height Growth Maximizer - Natural Height Pills to Grow Taller - Made in USA Sale in Pakistan
GROW TALLER AT ANY AGE - Have you ever wanted to grow taller than you already are? SILVER PEAKS has a perfect solution for you - Height Growth Maximizer! It's a natural growth stimulant full of nutrients vital for healthy bone growth & strength. Perfect for children, teens, and adults - our growth enhancer helps to get taller at any age! Try now and see the amazing results for yourself.
REACH YOUR PEAK HEIGHT - Our proprietary formula with Calcium and Collagen is specially designed to let your bones grow naturally and intensively. Collagen helps to connect cartilage tissues, lengthens bones, and protects skeletal system-joint health. Calcium is vital for the body to speed up the growth of the bone. Taking 1-2 capsules a day can increase the height and strengthen your bones.
NATURAL GROWTH PILLS - SILVER PEAKS Height Pills are formulated with the assistance of leading American physician and contain ingredients only with proven efficacy. Our Get Taller Supplement allows increasing height without growth hormones. We added Ashwagandha, Motherwort, Thiamine, Riboflavin, and Vitamin D to support different areas of your health to help your system adapt to growth.
US GROWTH ENHANCER - Our Growth Maximizer is made in the USA by an FRA registered and GMP certified facility. It is independently Third-Party tested to assure the highest quality and purity. All SILVER PEAKS ingredients are safe; our growth supplement has no GMOs, no sugar, dairy, gluten, or soy. It also has no artificial flavors and colors and has a vegetable capsule, which makes it perfect for everyone!
TOP CUSTOMER SERVICE - Your positive result is the main motivation for our company. We value your experience with our product and want you to get the maximum out of our Growth Stimulator. If you need any assistance - contact us, and our support team will help you within 12 hrs. We appreciate any feedback you leave and always ready to answer any questions you may have. We are here for you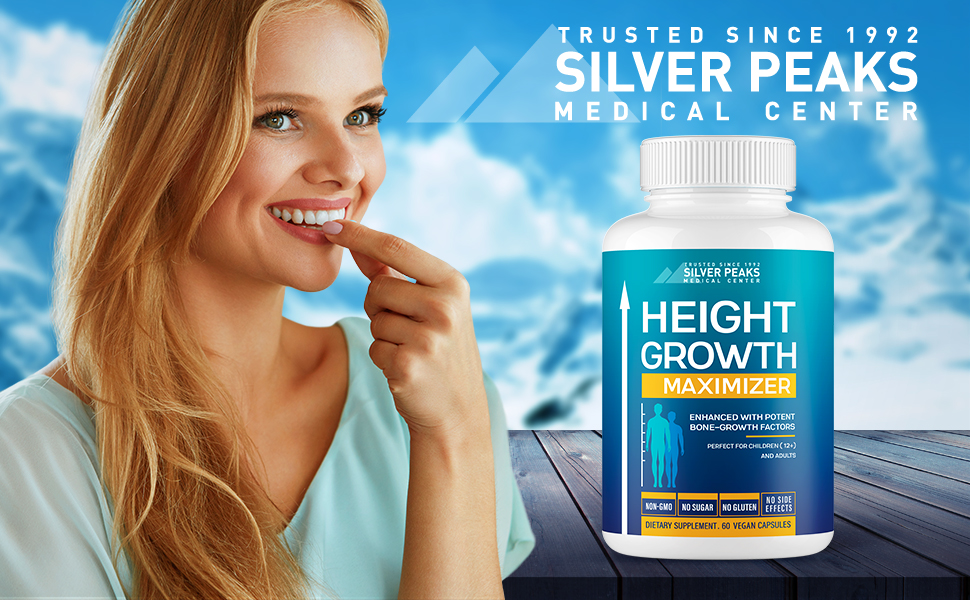 Today there are a lot of height growth products such as drops, powders, and pills, but each of these medicines may cause many unwanted side-effects. That is why our company created a perfectly balanced and safe supplement so you can achieve the desired result in the shortest time! We use only natural and carefully-selected ingredients to provide you with a safe and healthy product!
SILVER PEAKS Height Growth Maximizer is saturated with all the necessary nutrients to activate the fastest growth.
The product is filled with vitamin D, which is known as a growth vitamin. It is very important for the formation of the skeleton because its main purpose is to stimulate cell growth. It is also important for bones and cartilage, as it saturates them with calcium. That's why the height grows fast.
Calcium - everyone knows that this element is necessary for growth! As a fact, a middle-aged man weighing about 70 kg has more than one and a half kilograms of calcium in his body. In addition to the formation of bones and teeth, calcium is involved in many vital processes, including the formation and conduction of nerve impulses, helping to properly contract all the muscles of the body. Calcium is the basis of bone tissue, it makes bones strong, prevents the occurrence of fractures and cracks.
Thiamine - deficiency of this element in the diet causes beriberi, characterized by spasmodic pain in the leg muscles and difficulties to walk. In children, a lack of thiamine (vitamin B1) causes growth retardation. Thiamine promotes fast growth, also helps digestion, especially the absorption of carbohydrates. It also helps to improve the mental state!
Riboflavin (Vitamin B2) participates in growth processes. It is a biologically active substance that plays an important role in maintaining human health. It helps release energy from food. It participates in enzymatic systems that regulate the processes of oxidation and reduction in the tissue. Vitamin B2 is necessary for the formation of red blood cells, antibodies, and for the regulation of growth and reproductive functions in the body. It is also essential for the health of the skin, nails, hair growth, and overall health of the entire body, including thyroid function.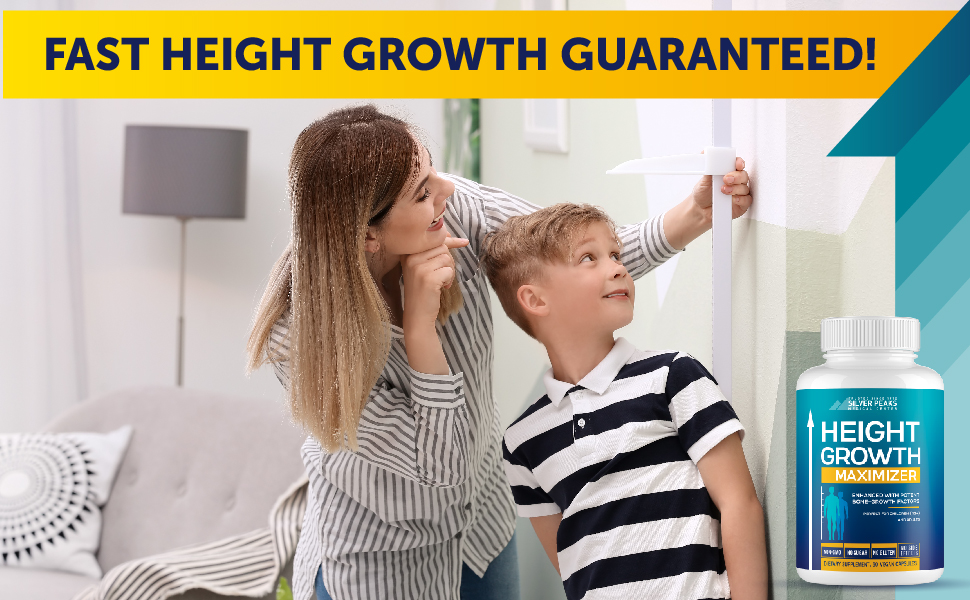 Height is one of the most important factors in one's personality. According to medical research, only 1-2% of people on Earth grow exactly as much as it is embedded in their genetic code. All the others are undergrown due to illnesses in childhood, lack of movement or a poor diet that deficits the necessary vitamins. Statistics show, one of three people is not happy with its growth. Many teenagers experienced daily bullying at school because of their height. It can turn into a "Napoleon" complex. Aggressive behavior and depressed mood are typical for the owners of this complex.
SILVER PEAKS Height Growth Maximizer helps to cope with this problem! The formula rich in Calcium and Collagen and is specially designed to let your bones grow naturally and intensively. Teens are ideal for getting growth-enhancing nutritional supplements, as their natural growth continues and they can simply stimulate it.
Growth maximizer is also perfect for adults to fully use their natural growth potential. The nutrients of SILVER PEAKS play a key role in growth processes. With their participation, the corresponding hormones are produced, bones and cartilage are supplied with mineral components, proteins, and carbohydrates, muscle tissue is formed and the entire body is fully nourished.
By the way, SILVER PEAKS is created for height growth only.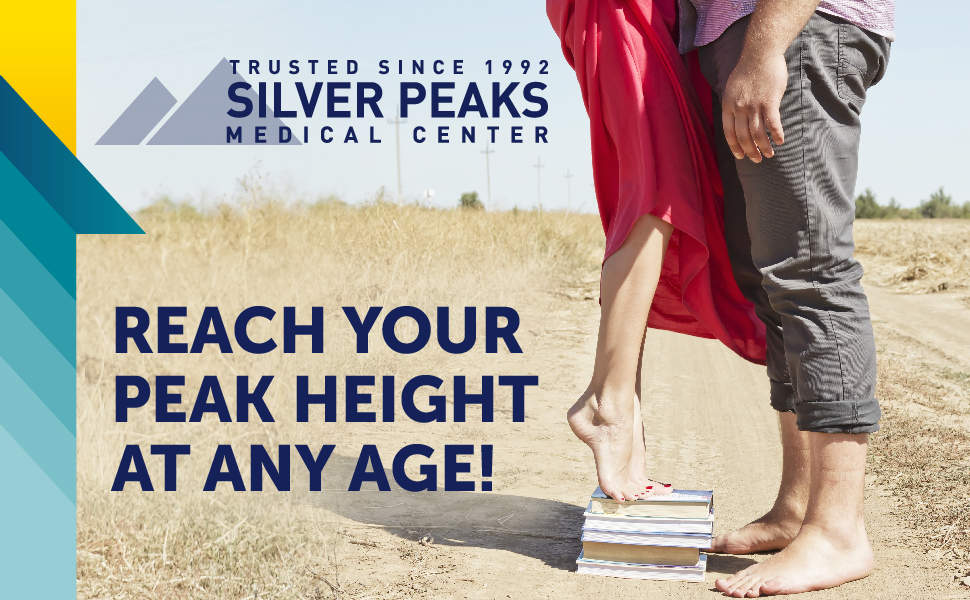 Q - Are SILVER PEAKS Height Pills effective?
A - Yes! These pills are formulated with the assistance of leading American physicians and contain ingredients only with proven efficacy. We added Ashwagandha, Motherwort, Thiamine, Riboflavin, and Vitamin D to support different areas of your health to help your system adapt to growth.
Q - How do SILVER PEAKS Height Pills work?
A - The nutrients of this product play a key role in growth processes. With their participation, the corresponding hormones are produced, bones and cartilage are supplied with mineral components, proteins, and carbohydrates, muscle tissue is formed and the entire growing body is fully nourished.
Q - How long does it take to get the results?
A - The result depends on your diet and lifestyle, as well as genetics. You may notice changes, after 5 months of taking pills continuously.
Q - Does Height Growth Maximizer have any side-effects? Does it contain harmful ingredients?
A - No! Our Get Taller Supplement allows increasing height without growth hormones. All ingredients are safe, have no GMOs, no sugar, dairy, gluten, or soy. It also has no artificial flavors and colors and has a vegetable capsule, which makes it perfect for everyone!
Q - Do SILVER PEAKS Height Pills help adults to grow taller?
A - Yes! It's a natural growth stimulant that is perfect for children, teens, and adults - our growth enhancer helps to get taller at any age!

About Height Growth Maximizer
SILVER PEAKS Height Growth Maximizer is a potent herbal supplement that helps you to grow taller. It works by supplying the body with the vitamins and minerals necessary to bone growth & strength. Nutrients in our height pills help lengthen the bones by increasing the density of cartilage and bone tissue.
Taking SILVER PEAKS Growth Pills will:
⇧ Increase your height
⇧ Support joint and bone health
⇧ Speed up the natural growth
⇧ Promote overall health benefits
ADD TO CART to get taller naturally!
Important information
Legal Disclaimer
Legal Disclaimer
Ingredients
Nanometer Calcium Carbonate, Hydrolyzed Collagen type 2, Sea Cucumber, Poria Cocos Mushroom, Eucommia Ulmoides Bark, Motherwort (Aerial Parts), Solomon's Seal Rhizome, Szechuan Lovage Rhizome, Ginkgo Biloba Leaf, 5-Hydroxytrytophan, Calcium Carbonate, Magnesium Stearate and Vegetable Cellulose Capsules.
Size & Weight
Size:
4.3 in x 2.2 in x 1.4 in