Blackbeard for Men Formula X - Instant Brush-on Beard & Mustache Color Sale in Pakistan
Patented, Instant, Hypoallergenic Beard Color
Not a Dye! Gentle and Non-Toxic
Brushes On in Seconds, Lasts All Day
Water Resistant
Cover 100%, or leave some grey for a natural look

Tired of looking like ol' Graybeard himself?
Tired of looking like ol' Graybeard himself?
To combat the problem, many of us try the leading drugstore beard dye. But application is a pain in the arse, and the ammonia smell is awful. After all that hassle, you have to shower and clean up the mess.
Blackbeard for Men is the solution.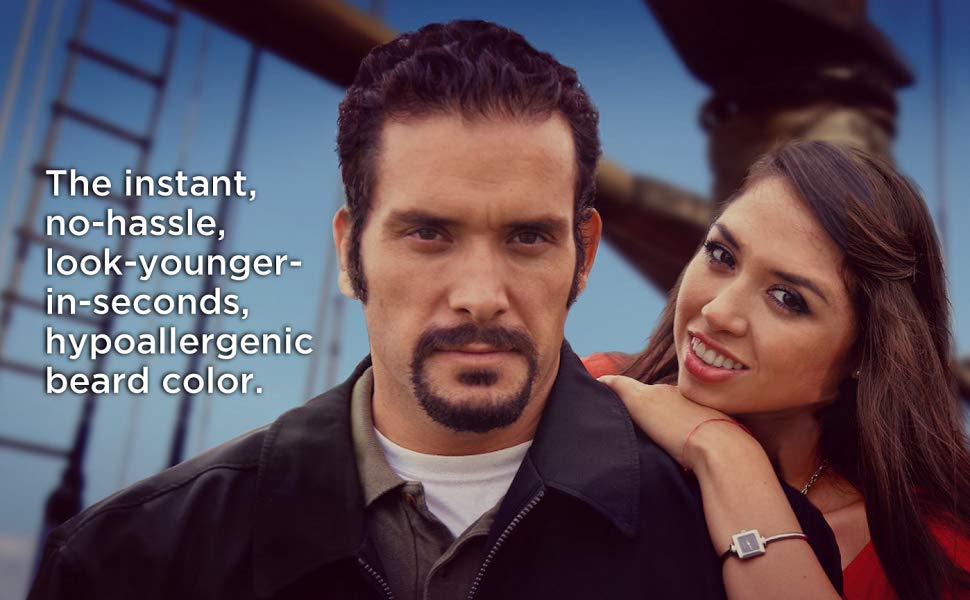 Blackbeard for Men is Not a Dye.
It's instant, brush-on temporary beard color. Goes on in seconds, lasts all day, looks completely natural. And no itching, rashes or skin irritation!
Aye, and Blackbeard for Men has other advantages. Ye can leave some gray if you like, or wipe it out completely.
It also fills gaps, making it ideal for men with thinner beards or stubble. And it works on sideburns and eyebrows, too.
And if ye only have patches of gray, ye can knock them out with Blackbeard for Men without the hassle of dyeing yer whole mustache and beard.
And hey, if ye still fancy your dye, you can use Blackbeard for Men to touch up your roots.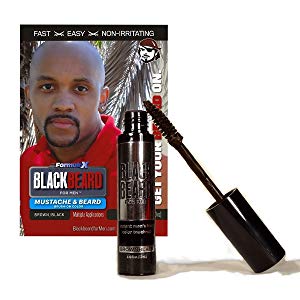 Advantages of Blackbeard for Men vs. Dyes
Applies in seconds
Completely natural look
Hypoallergenic - gentle and non-irritating
Water resistant, lasts all day (appx 8-12 hrs or more)
No harsh chemical odor
No hassle
Leave some gray if you want
Leave some gray if you want
No more gray roots
Look years younger instantly!
Look years younger instantly!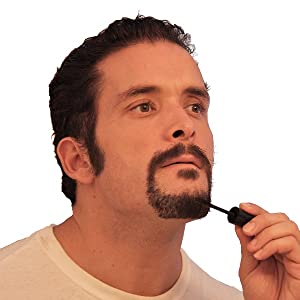 Apply whenever.
Blackbeard for Men is a daily use product -- you only put it on when you want to. Applies in seconds. No muss, no fuss.
Apply sparingly - wipe off excess on lip of bottle. Build up the color gradually until it matches perfectly.
Use a tissue to tamp down color or correct mistakes. Even leave some gray if ye like for a completely natural look.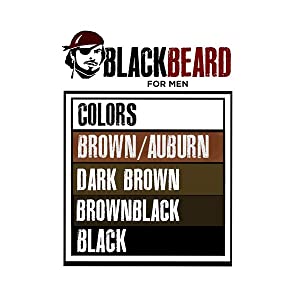 Available in...
Brown/Auburn, Dark Brown, Brownblack and Black. 1-pk, 3-pk, 6-pk or Max Pak (13.)
Will not run in water or sweat. Once applied, leave it be. Remember, Blackbeard for Men is a cosmetic, not a dye. Dab with a napkin, do not wipe.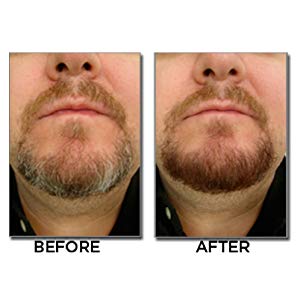 Gray gone.
Say goodbye to harsh chemical dyes. Regain yer youthful appearance, yer manly vigor, yer roguish good looks! Wipe out the gray today.
Blackbeard for Men -- Get Your Beard On.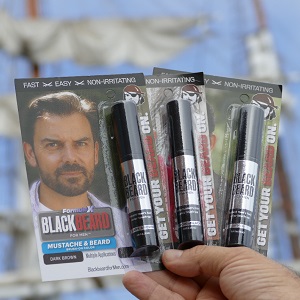 Each .40 oz bottle of Blackbeard for Men lasts approximately one month with average use -- a well-groomed mustache, beard and sideburns, applied daily.*
*Recommended for men with well-groomed beards up to 3 inches in length.
Blackbeard for Men.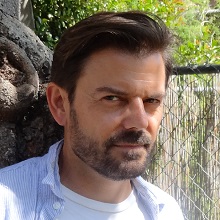 Get.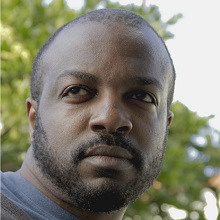 Your.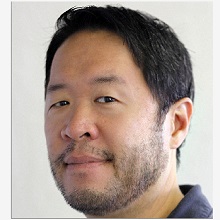 Beard.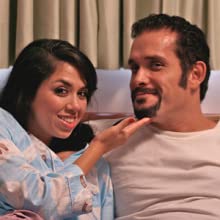 On.
Important information
Safety Warning
Persons with known skin allergies or sensitive skin should consult with their doctor before using Blackbeard for Men or any cosmetic product. If any itching, rash or discomfort occurs discontinue use of the product immediately and consult your physician.
How to Use?
Just brush it on! Dries quickly, lasts all day. Apply lightly and leave some gray for a natural look, or apply heavily to completely remove the gray. For best results make sure mustache and beard are completely dry before applying.